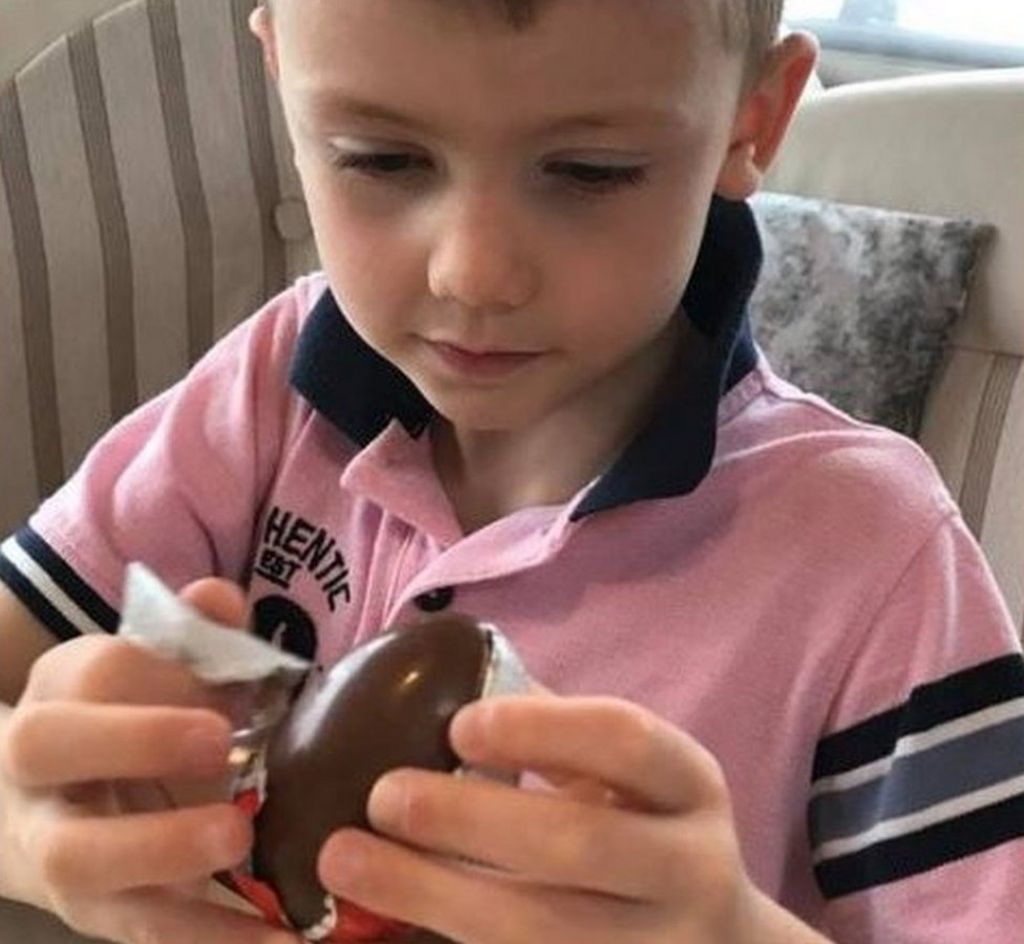 A family is "thrilled" to be getting a specific toy for their "shark-mad" autistic son after an eight-month quest to find one.
Jayden Lakey, aged six, from Plymouth, Devon, will be "over the moon" to receive a Kinder Egg containing the plastic shark.
The family's original request to buy one directly from Ferrero, which owns Kinder Egg, was turned down.
Ferrero said it now had one and would ensure "its safe passage to Plymouth".
More on this story, and other news
Jayden's mum Vicky Lakey, who has spent hundreds of pounds on Kinder Eggs since December, said: "It's going to mean the world to him."
"We're chuffed to bits that we have fought a little battle for him. He will cherish it, just like the Kinder box he carries around displaying the shark."
When she and husband Richard Lakey received the news from Ferrero that an egg was on its way, she said they were "absolutely thrilled".
"Jayden isn't interested in the chocolate – out of the hundreds we have purchased I think he has eaten about three.
"It's all about Jayden finally opening up that Kinder Egg which he has been looking for for the past eight months."
Jayden started his search over Christmas when he saw the toy shark on the side of a box of Kinder Eggs.
Despite choosing an egg whenever he was allowed a treat, months went by and he had not found a shark.
His parents wrote to Ferrero in June asking to pay for an egg which was guaranteed to include a shark toy, but were turned down.
The family turned to Facebook on Sunday for help. Subsequently, Ferrero said it had been "searching through our collection of surprises to find a shark toy".
A statement said: "We are delighted that we have been able to find one for Jayden and are currently arranging its safe passage to Plymouth across land and sea."
Many people with autism have intense and highly-focused interests, often from a young age:
These can change over time, or be lifelong, and can be anything from art or music to trains or computers
People with autism can also become attached to objects or parts of objects, like toys, figurines or model cars, or more unusual objects like milk bottle tops, stones or shoes
An interest in collecting is also quite common
These interests can help provide structure, order and predictability, and help people cope with the uncertainties of daily life
They can also help people with autism relax and feel happy
Source: National Autistic Society