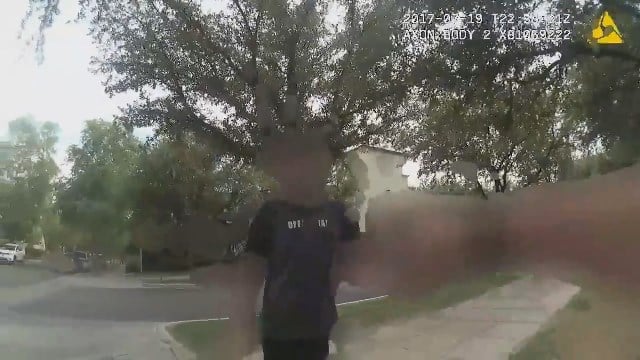 BUCKEYE, AZ (3TV/CBS 5) –
The Buckeye Police Department on Monday released body camera video of an officer's interaction with and detention of a teenager with autism.
It happened the afternoon of Wednesday, July 19 at a park in the area of Village and Main streets.
"Buckeye Police Officer Grossman, a state certified trainer in drug use recognition, observed a teenager alone in a park," according to a news release from the agency. "Grossman observed the teenager moving his hand to his face in a manner consistent with inhaling, and then observed the teenager's body react accordingly after that movement."
At that point, according to the Buckeye Police Department, Grossman contacted the teen, identified as Connor, and asked what he was doing. Seconds later, the teen turned around and started to walk away.
Grossman stated in his incident report that Connor appeared to have something in his hand, which he held "upright with a closed fist," and "was sweating profusely." The teen told Grossman it was string in his hand, which his aunt later said was common for him "as it helps him with his nerves."
"The officer then lawfully detained the teenager, causing both of them to fall to the ground," according to BPD. "The teenager sustained abrasions to his back and arm as he brushed up against a tree."
Photos from Connor's family showed larges scrapes on his back and the back of his right arm, as well as a scrape near his right eye.
Grossman, unaware he was dealing with a minor, let alone a minor on the spectrum, was on the ground with Connor for about 2 minutes.
"During this time, the teenager's caretaker [his aunt], who had been absent when Grossman first arrived, showed up on scene and advised the officer the teenager was autistic," according to BPD. "When a second Buckeye officer arrived, the teenager was released and allowed to sit next to his caretaker. There was no escalation of force and the teenager was only briefly detained during the incident."
The on-duty patrol supervisor heard the sounds of Grossman's mic clicking over the radio along with "the obvious sounds of a struggle being transmitted," and responded to the scene believing Grossman might be in trouble. Shortly before arriving, he heard a call from another officer indicating that everything was fine and the situation was under control.
He said in his supplemental report that the Connor's aunt came over and told him she was "grateful" the other officer "was there to help Officer Grossman because Officer Grossman seemed 'panicked' during the ordeal."
The full body camera video is 21 minutes. (Note: We are working on processing that large video file and will post it in its entirety as soon as we can.)
Connor's lawyer, Timothy Allen Scott, uploaded a 43-second excerpt to YouTube in which Grossman is heard asking the teen what he was doing and telling the boy to "stop walking away from me."
[WATCH: Video excerpt posted by lawyer]
Connor, after saying he did not have an ID on him, turned and looked like he was going to walk away. That's when Grossman grabbed him. The teen struggled and can be heard screaming. That is not an uncommon reaction by a person on the spectrum when he or she is touched by somebody he or she does not know, or even by somebody familiar.
While the police department maintains that Grossman and the boy fell during the scuffle, Scott's description on YouTube is quite different — "police officer detains a 14-year-old autistic boy and slams him to the ground."
The short YouTube clip ended with Grossman telling Connor not to move, asking him if he understood and Connor yelling what sounded like, "I'm OK."
Scott, who is based in San Diego, said via Twitter that his client wants an apology from Grossman, for Grossman to do community service with the "autistic community" and training for all Buckeye officers.
"If Buckeye PD does those 3 things, we will be flexible in resolving the boy's financial damages, but those 3 issues are mandatory," he tweeted from his apparently new Twitter account.
Detective Tamela Skaggs during a news conference Monday described Grossman's initial suspicion that Connor was a drug user as "reasonable" and pointed out that "the officer had to make [a] split-second decision" when Connor looked like he was going to walk away. "It happened fast after that."
Skaggs said the department plans to use Grossman's body-cam video to train other officers.
"We are going to learn from this and hopefully deal with these situations differently," she explained, saying that Grossman was operating "as a drug recognition expert."
"That's was he thought was going on at the time based on his training and experience," she said, explaining that things de-escalated once Grossman was made aware that Connor is on the spectrum and as such might displays behaviors that could be misconstrued.
"If you watch the entire video, things were dialed down very quickly — with the juvenile, with the officer, with the caretaker coming over and everything," Skaggs said. "We learned a lot from this video. … We will take any type of training that we can get from again, from this incident, any other incident and we can learn from, we can better ourselves from."
[WATCH RAW VIDEO: Buckeye Police Department news conference]
She also briefly mentioned a program in which "any person with any type of disability" could register with the department so officers who come into contact with them might be able to quickly learn about them and adjust their behavior accordingly. "We've talked about maybe wearing different bracelets for autism, somebody with bipolar [disorder], different types of disabilities," as a sign to officers that there might be some special circumstances in play and extra care might be in order.
If Buckeye PD does those 3 things, we will be flexible in resolving the boy's financial damages, but those 3 issues are mandatory.
— Timothy Allen Scott (@ScottTrialLaw) September 18, 2017
We're demanding 3 things: 1) apology from officer; 2) community service from officer to autistic community; 3) training for all Buckeye PD.
— Timothy Allen Scott (@ScottTrialLaw) September 18, 2017
[PDF: Buckeye Police Department's incident report]
Click/tap here to download the free azfamily mobile app.
Copyright 2017 KPHO/KTVK (KPHO Broadcasting Corporation). All rights reserved.